Other Services
One of the many services we offer at Al-Be Industries includes die refurbishing (removing the surface plating, welding and/or machining as necessary, polishing, and re-plating). We are capable of refurbishing sheet dies up to 48" wide and film dies up to 28" in diameter.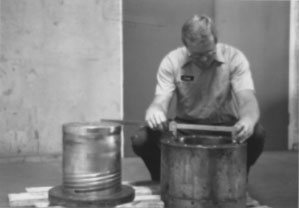 Al-Be technician measuring a 16" blown film die prior to refurbishing
We also offer analysis of the wear between the screw and barrel of your extruder or injection molding machines. Our trained technicians can measure barrels and screws as small as 3/4" and as large as 6" in diameter. A detailed report can be provided along with recommendations (excessive wear contributes greatly to the loss of output among other inherent problems). Inspections can be set up well in advance to accommodate production schedules.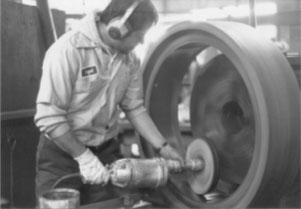 Al-Be employee polishing a 24" film die